As promised...A CASTLE...just one!
---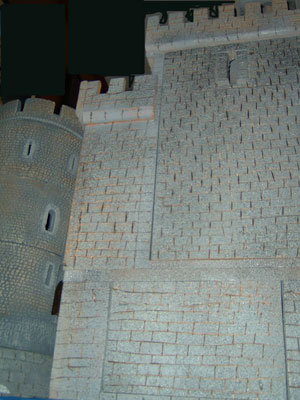 The massive, foreboding walls of the castle with the dark, dank, foreboding keep in the distance.
We told you it was a big one!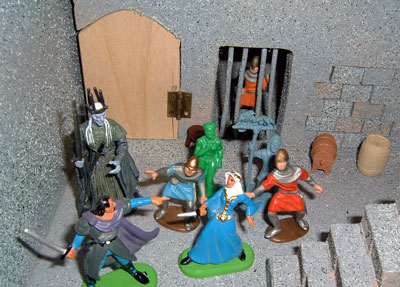 The Lord High Sheriff (left, foreground) and Lady Marion (with dagger) having a heated disagreement over Lady Marion's plan to redecorate the dungeon and turn it into a Ladies-in-waiting lounge.
The Dungeon Keeper (tall chap to the rear) shows obvious concern over Lady Marion's plan.
Then again if the Sheriff was doing his job, the dungeon's gaols might not be empty.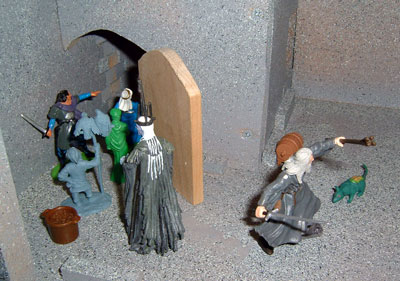 The dungeon tour continues, as the castle exterminator attempts to rid the dungeon of a very large, green armored...yes, armored...rat.
Giant, green, armored rats. No decent dungeon should be without them.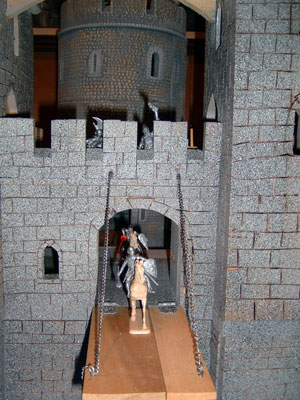 No decent castle should also be without a drawbridge.
This castle has three, which makes it three times as decent as your run-of-the-mill, average castle.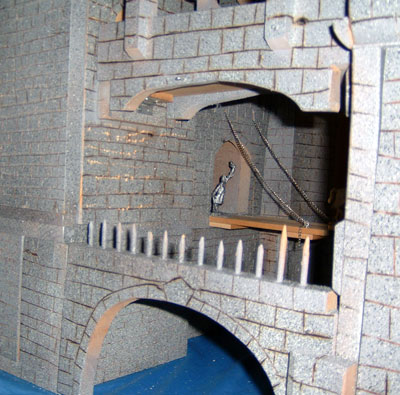 The knight...er, night watchman checks the moat for moat monsters.
All decent castles have moat monsters. Unfortunately, ours were on holiday.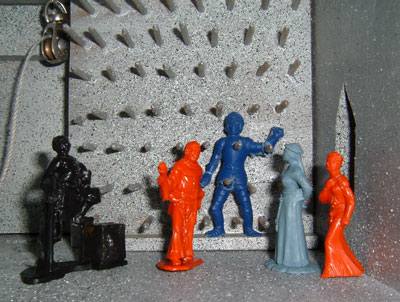 And no good castle is complete without traps, lots of traps.
Here we have the traditional moving wall with spikey thingies.
On to the second page of Castle pics.
Back to the Miniature Worlds top page.